Hickory Flat captures MHSAA 1A Girls Volleyball State Championship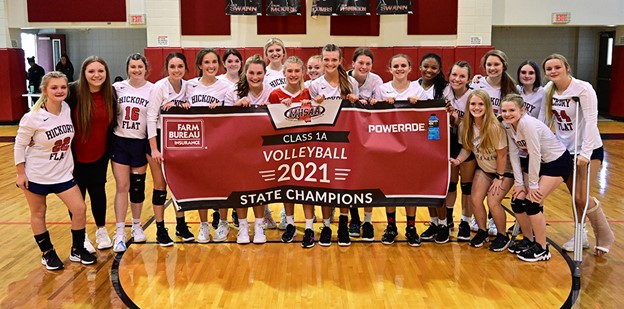 ---
CLINTON — Hickory Flat wanted revenge.
They got it, but it came down to the very end.
Behind the play of Emma Wilson the Lady Rebels got past Resurrection 3-2 (19-25, 25-22, 25-18, 18-25, 15-13) to claim the MHSAA Class 1A Girls Volleyball State Championship on Saturday afternoon.
It's the Lady Rebels (20-7) first state title in school history. Resurrection swept Hickory Flat in the 1A state title match last season.
They swept us last year, so we were ready to come back at them and get some revenge," said Hickory Flat coach Adam Mauney. "It's a weight lifted off our shoulders and the girls are a great group and gave everything they had the entire season."
In the first set Resurrection jumped out to an 8-2 lead, but Hickory Flat went on a 12-6 run to take a 16-14 lead. The Lady Eagles ended the opening set on a 11-3 run to take first set 25-19.
The second set Hickory Flat took a 14-10 lead midway through and held on to take the second set 25-22 to tie the set.
The Lady Rebels dominated the third set winning 25-18 and taking a 2-1 match lead.
Resurrection rebounded in the fourth set 25-18 to tie the match and take it to a fifth set.
In the fifth set Hickory Flat took a 9-7 and held on to win the final set 15-13 to claim the school's first state title in volleyball.
"I called timeout to tell them to finish it and told them to settle in because all we needed is two points and it worked out for us," Mauney said. "Emma has been playing since the eighth grade and her goal was always to get here and win it especially her senior year. This is big for us, the school and the community."
Wilson had 22 kills to lead Hickory Flat and was named the game's Most Valuable Player.
"I'm so proud of how we kept fighting even after we'd make a mistake. We did not get stuck in set receive which is something we struggled all year and it paid off," Wilson said. "We always say one more pass, one more kill, one more point that's what I tell them all the time. I think last year we were happy to get to come to Jackson and not the game. This year our mind set all year was coming back here and taking it and we did."
Resurrection finished the year 18-5.
"Both teams played really well, but we made more errors than they did," said Resurrection coach Keith Tucker. "This match was the way you wanted it to be going five sets, but just didn't bounce our way."
(Article by Brandon Shields, Feature photo by Jared Thomas, for the MHSAA)

From Left to Right:
Kadence Ware, Bailey Wilson, Harley Hobbs, Sara Jo Skelton, Abigail Tatum, Hailey Harrison, Anna Reese Woods, Lily Gray, Dixie Ware, Layla Hall, Emma Wilson, Camri Westmoreland, Morgan Green, Vonterrica Garner, Mackenzie Garner, McKenley Moffitt, Leanna Rose Work, Chasity White, Savannah Moore, Jo Lee Young
Coach: Adam Mauney
Assistant Coach: Nolan Stevens
MVP of the Game: Emma Wilson
Scholar Athlete of the Game: Anna Reese Woods